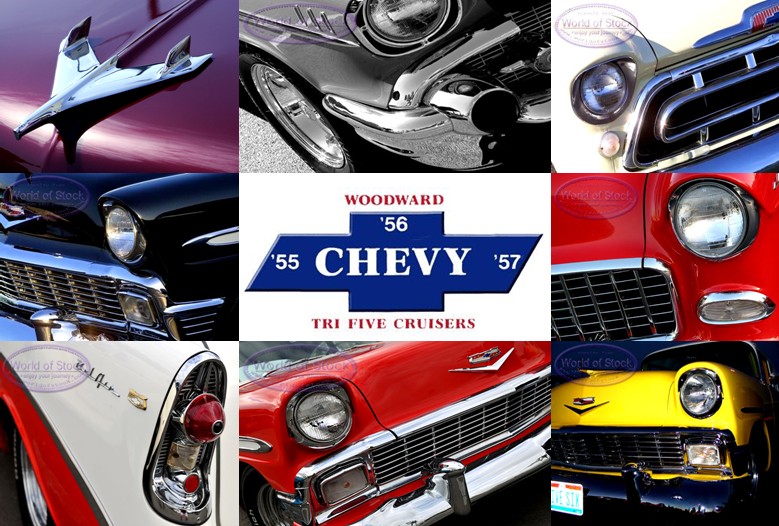 Greeting to our fellow Tri-Fivers!
We are home to the Woodward Dream Cruise! We took our club name from the "world's largest one-day automotive event." Woodward Avenue is eight lanes of blacktop running from downtown Detroit out to Pontiac's Wide Track Drive. The August 2002 extravaganza drew an estimated 1.7 million fans and 40,000 classic vehicles over a thirty-two-mile cruisin' route. Come and join us this year!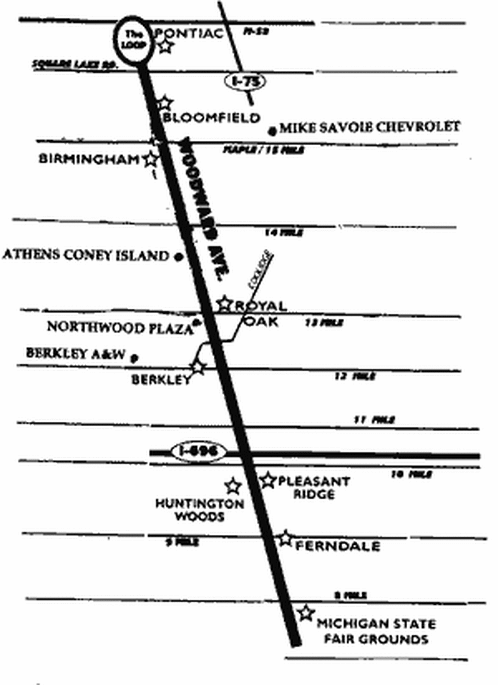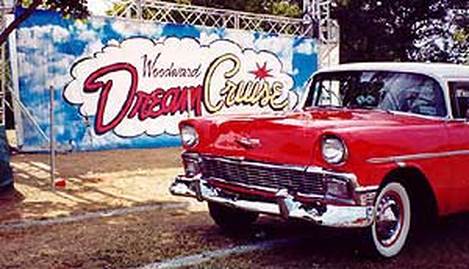 The Woodward Tri Five Cruisers is a family-oriented club dedicated to the restoration, preservation and enjoyment of '55, '56 and '57 classic Chevrolets. We hope to enjoy the shared "BOW-TIE" experience and exchange valuable information.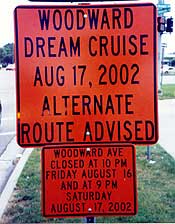 The Woodward Tri Five Cruisers was created in August 2002 in response to demand for such an organization. Founding members Roger and Amy Posey, Charlie and Faye Yonker, Don and Judy Hutchinson and Don and Jayne Corwin had made contact cruisin' on Woodward Avenue. Our first official outing occurred at the 19th annual Frankenmuth Auto Fest September 6th through 8th. We thoroughly enjoyed our three days among the some 3,000 cars.


Our Club members kick off the season each year with our "Annual Spring Picnic". The Club participates in various classic car shows throughout the season as well. Our seasons last event is the fall "Leaf Peeps" held in early October. Everyone always has a fabulous time at these events.

---
| | |
| --- | --- |
| --- | Our Club really delights in Cruisin' "Motor City" style. We are always ready for warm balmy sunny evenings out on Woodward Avenue. Our Members who reside in locations other than southeastern Michigan relay their cruising adventures via emails as they enjoy their Tri Five Chevy's as they cruise in Australia, Florida, New York, Canada and England. Dream Cruise Week you will find Club members cruising Woodward from Detroit to Pontiac, Mi. If you see a member in their official Club apparel, stop and have a chat about our automotive hobby. Thank you for visiting our website and feel free to share your experience with your fellow cruisers. |
Our Club extends a special thanks to CARS, Inc for all of their support for our club. The Woodward Tri Five Cruisers have supported several local charities through the years. The primary charity our Club is the "Leader Dogs For The Blind", through the local Clawson Lions Club. We are a non-profit corporation that is open for new members that cruise in any make or model of a Chevrolet manufactured in 1955, 1956 or 1957 who live anywhere in the world. We are a family oriented Club that cruise in Corvettes, Nomads, Pickups, station wagons and all four models of the Tri Five Chevy's.

After reading about the Woodward Tri Five Cruisers and viewing the photos of our various activities in our galleries, you can apply for membership by clicking on the following link:

---
Please take a minute to view the Woodward Tri Five Cruisers streaming slide show!

Notes:
You can pause the slide show by clicking on any picture and then press the "Pause" button in the upper LH corner of the screen.
You can scroll through the pictures manually by clicking on any picture and then click on the < or > arrows in the upper RH corner of the screen.
To resume the streaming slide show simply click on the "Play" button.
---